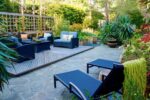 The Vision
The owners were looking for an outdoor space where they could comfortably entertain guests. We proposed re-surfacing the existing aggregate patio with slate, as its appealing mix of grey and browns would lend the area a more casual look. We also designed a cedar deck to cantilever over the patio, its warmth complementing the colours of the stone.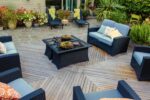 Our Process
After creating the slate patio, we gave the deck a unique look using the "chevron" pattern. We built vegetable boxes in rough cedar right up against the deck to give the space an intimate feel and planted them with culinary herbs, the scent of which perfumes the air. Another slate patio near the garden provides a private lounging area, with creeping Thyme
planted in the gaps between the stones.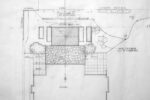 The Design
This bird's-eye view captures the geometric appeal of the patio stones and the chevron-patterned deck.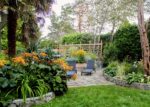 The Details
Seeing the existing Yucca plants as strong architectural assets, we highlighted them by building new rock walls around them.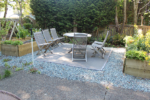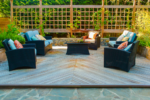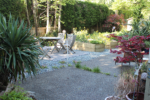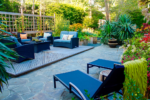 +7