Founded in 2002, Turk Landscape Design is an all-in-one Victoria landscaping company, managing design, construction, masonry, carpentry, installation, and everything in between.
Owners Catherine and Marty met when they were both engaged to work on the same client's property and immediately discovered they shared a love of creating stunning solutions that fuse design and natural beauty. Their dynamic approach and passion for harmonious landscapes allow them to work in a variety of styles and create a living connection between the client's desires and their outdoor space.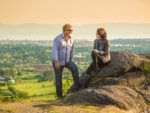 A Rich Collaboration
A graduate of Niagara Parks Commission School of Horticulture and the Horticulture Centre of the Pacific, Catherine broadened her experience at Threave Gardens and the Chelsea Flower Show in the UK. When she returned to Victoria, B.C., she continued to hone her craft as a designer in the industry before deciding to start her own landscaping business. Catherine's creative collaborator for several years, Marty brought with him a mastery of hardscaping, particularly excelling in design and the implementation of patios, pathways, lighting, and water features. Joining forces as business partners allowed them to combine their skills and to this day create truly beautiful landscapes that enhance properties and neighbourhoods.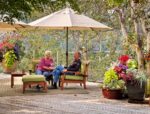 Working with the Industry's Best
Catherine and Marty take a hands-on approach, managing every aspect of the process, from design to project management. Over many years in the business, they have developed strong relationships with skilled local craftspeople and professional sub-trades, and they can often obtain preferable rates than clients would receive if they hired the contractors directly.
"As a building contractor of award-winning show homes, we have worked with a large number of suppliers and sub-trades over the past 60 years. Turk Landscape Design is one of the most committed, reliable and enjoyable companies with whom we have ever worked."
Previous Slide
Next Slide